Video Editing for still photo and Graphic design
Here you will find Photo editing and Graphic design software to make you finished work look amazing. The products are the best found on the market today.
Disclaimer:
Although we do our best to detail the benefits and features of the software, we take no respon­si­bil­i­ty for accuracy as products can
change without notice, so please take care and go through to the links and check it out in full detail.
Click the buttons below each description. Press Play to learn more!
.….….….….….….….….….….….….….….….….….….….….….….….….….….….….….….….….
Magix Photo Manager Delux
MAGIX Photo Manager Deluxe allows you to easily browse, sort and redis­cov­er your most beau­ti­ful photos & videos. MAGIX Photo Manager helps
you maximise your photo and video col­lec­tion, edit, sort and organise your photos and videos with ease. View and organise RAW files or enjoy videos in AVCHD format.
Photo Manager Deluxe supports all con­ven­tion­al photo and video formats. With Photo Manager Deluxe, you can import your media from your scanner or camera directly into the program.
The intel­li­gent Selec­tion Wizard uses inno­v­a­tive image analysis to sort out poor shots, dupli­cates and blurry photos.
This is very handy! Optimise bright­ness, contrast, colour, and sharp­ness with just a couple of clicks or conduct red eye cor­rec­tion.
Cool Stuff! Travel route ani­ma­tion. Impres­sive tran­si­tions, You can find photo material with dif­fer­ent themes,
ani­ma­tions, back­ground music and sound effects in the Catooh Online Media Catalog.
Click the button to watch your free video pre­sen­ta­tion.
Press Play
.….….….….….….….….….….….….….….….….….….….….….….….….….….….….……
Magax Easy Photo Story
A easy to use photo storage and display product.
Make your own slideshows with MAGIX Pho­to­sto­ry easy in just 3 steps, style tem­plates for various themes easily turn your photos and video clips into real picture stories with text, music and spec­tac­u­lar effects. 
Create appeal­ing CD/DVD cases & labels for your slideshow discs. Upload to YouTube, Facebook and Flickr. 
Slideshows for TV, PC, Web, Blu-ray, pro­jec­tors & mobile devices.
Click the button to watch your free video pre­sen­ta­tion.
Press Play
.….….….….….….….….….….….….….….….….….….….….….….….….….….….….….
Magix Photo Story Premium
MAGIX Photo Premium combines the latest image editing and graphics tools with the best slideshow maker software.
With Xara Photo & Graphic Designer and MAGIX Photo story Deluxe together in a single powerful package,
you can create impres­sive images and present them in spec­tac­u­lar slideshows. Photo editing, graphic design and illus­tra­tion, flawless images through retouch­ing,
creative collages Auto­mat­ic panorama montages, Magnetic lasso for quick editing,
fan­tas­tic photo filters and effects 1,500+ effects, tran­si­tions & music. Auto­mat­ic Pho­to­sto­ry wizard Camera pans,
zooms and rota­tions, auto­mat­ic shot match and image opti­mi­sa­tion, record audio com­men­taries export to DVD or Blu-ray or online.
This is a fan­tas­tic package you will not be dis­ap­point­ed. 
Click the button to watch your free video pre­sen­ta­tion.
Press Play
.….….….….….….….….….….….….….….….….….….….….….….….….….….….….….….….….….…..
Magix Photo Story Deluxe 2019
Ani­ma­tion, slideshow and 1500 affects. This is a great package at very afford­able price. You can add sounds like Birds singing and Church Bells ringing or if you prefer beau­ti­ful music score.
This is easy to use and you will be very happy with your finished results. Have fun showing your family and friends add intros and travel maps and affects.
You can also access online tuto­ri­als.
Click the button to watch your free video pre­sen­ta­tion.
.….….….….….….….….….….….….….….….….….….….….….….….….….….….….….….….…..
Xara Photo

&

 Graphic Designer
f you want to be very creative in your Pho­to­graph­ic work then this is the package you will need. The pos­si­bil­i­ties are endless.
From photo collages and print doc­u­ments to digital works of art, get impres­sive results. A massive col­lec­tion of stock photo's, icons, filters and shapes.
Magnetic lasso for removing unwanted objects, create vector graphics or 3D design. Edit images, create logo's, sketches, flyers & posters.
This is amazing software to have you creating like a pro. You can use Vector based graphics and shape tools. Access an impres­sive col­lec­tion of design elements
and illus­tra­tions for use in print or on the web. Retouch photo's, change back­grounds, remove objects, remove wrinkles and spots from your subject.
Thanks to Magic Resize, you don't have to make endless posts for Facebook, Insta­gram and other social media plat­forms.
Simply format one post with the right size category without dis­tort­ing the images. Use your art brush to high­light your subject, breathe life into your illus­tra­tions with effects such as trans­paren­cy, shadows and gra­di­ents.
Add a whole new dimen­sion to your graphics with the the 3D tool. You can even set per­spec­tive, depth and shadow. Also comes with a PDF editor. This is a lot of software product and features for a very low price, there is no need to spend more!
Check it out there is much more and also Xara Designer Pro X for more exten­sive tools.
Click the button to watch your free video pre­sen­ta­tion.
.….….….….….….….….….….….….….….….….….….….….….….….….….….….….….…
Corel Paint Shop Pro 2019
If you are looking for afford­able Pro Photo tools ? If so this is for you! You must check out what this amazing package can do.
Edit photos like a pro. Retouch and enhance your images with a com­pre­hen­sive set of pro­gres­sive photo editing tools. Enjoy powerful, layer-based editing.
Create impres­sive design projects. Design with text, brushes and textures, plus drawing and painting tools to create attention-grabbing designs.
Improve photos with quick fixes. Crop, straight­en, resize, enhance and retouch, or use one-click adjust­ments to instant­ly correct.
Add effects for impact. Exper­i­ment with hundreds of creative filters and fun effects to make your photos pop.
Remove flaws and dis­trac­tions. Elim­i­nate imper­fec­tions and unwanted photo elements, from a small scratch to an entire back­ground.
Click the button to watch your free video pre­sen­ta­tion.
.….….….….….….….….….….….….….….….….….….….….….….….….….….….….….….
Corel PaintShop Pro Ultimate 2019
Paint shop Pro is a really amazing package, but if you would like to go one step further and get extra goodies check out PaintShop Pro Ultimate.
Edit photos and design graphics, PaintShop Pro's expan­sive col­lec­tion of pro­fes­sion­al photo editing tools, in addition to five invalu­able creative appli­ca­tions.
Make photo ani­ma­tions, effort­less­ly trans­form any image into a mes­meris­ing ani­ma­tion in a matter of minutes with Pho­toMi­rage Express.
Paint, draw or sketch, become a digital artist with Painter Essen­tials 6, an easy-to-learn painting program.
Correct photos instant­ly, restore details, colour, and more lost by your camera with the proven, patented image cor­rec­tions in Per­fect­ly Clear 3.5

SE

.
Edit

RAW

images, quickly learn professional-grade

RAW

photo editing and take control of very large photo col­lec­tions with After­Shot 3.
Click the button to watch your free video pre­sen­ta­tion.
.….….….….….….….….….….….….….….….….….….….….….….….….….….….….….….
Photo Mirage from Corel
This very popular software, Photo Mirage makes it easy to create awesome motion effects, from a single photo.
Corel make this easy for any one to use, your 8 year old will be using it.
You can be sure that ever piece will be unique.
Corel mixes photo and video into one hypnotic state thats truely worthy of web and social media engage­ment.
Click the button to watch your free video pre­sen­ta­tion.
.….….….….….….….….….….….….….….….….….….….….….….…..
Corel Painter essentials 6
This is a Paint program and Photo Painting software.Turn a photo into an amazing oil,
pastel or impres­sion­ist work of art, or draw and sketch on a blank canvas.
Stunning reality using authen­tic dry media like chalks, pencils and pastels,
or real­is­tic wet media includ­ing oils, air­brush­es, pens & digital water­colours. 
Here are some of the amazing things you can do, are you working with photo's? Try the one-touch Auto-Paint tool.
Simply open the photo of your choice, select a painting style and click play. As a must-have paint editor,
Corel Painter essen­tials 6 will mag­i­cal­ly paint the photo for you using Smart Stroke tech­nol­o­gy, no hands required.
Sketch right over your photo using Tracing Paper as a guide to ensure that your hand drawn com­po­si­tion is per­fec­tion
If you want to create your own original work no problem, Sketch your vision using the perfect pencil for the job,
choose from grainy, thick and thin and scratch­board tool vari­a­tions.
Then, render your mas­ter­piece using an exciting variety of Chalks, Pastels, Crayons & Charcoal includ­ing blunt, soft, square, tapered and jitter variants that will suit any task at hand.
You prefer to try your hand a digital painting? Corel Painter essen­tials 6 has you in mind with helpful tuto­ri­als and com­mu­ni­ty con­nec­tions for begin­ners to advance.
Create an oil or acrylic painting using clumpy, glazing, flat or filbert brushes, spray fine, coarse or soft airbrush paint
all over your canvas, dip in to digital water­colour to wash, spatter or diffuse paint and emulate Impres­sion­ist Masters like Sargent and Post-Impressionists like Van Gogh. 
Want to go crazy modern art? Create with unique painter media types like dynamic par­ti­cles that spring, flow and grav­i­tate across canvas, plus F‑X effects that sprinkle fairy dust, glow, jitter, shatter, and distort or grab a Pattern Pen to stroke dec­o­ra­tive brush­strokes across your canvas like magic.
Have a look at the content here
Click the button to watch your free video pre­sen­ta­tion.
.….….….….….….….….….….….……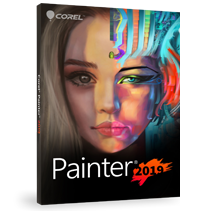 Corel Painter 2019
Corel Painter is the ultimate paint tool for the digital artist. Whether you are working as in illus­tra­tor, a concept artist,
Manga and comics, fine art or with digital photo art, Corel Painter have the tools you need to get the job done.
Get creative with over 900 brushes, par­ti­cles and pattern pens. Work with an array of textures, patterns, colours and nozzles to bring your work of art to life.
If you are a photo artist you may like to select the auto painter feature. Open your photo, launch the Auto-Painting Panels and start photo painting. Edit your image, if desired, then choose Auto-Clone and let Painter do the work.
It's as simple as choosing a Smart Stroke or Clone brush and then clicking Play to fill the canvas with real­is­tic paint.
You can adjust with the restora­tion panel and bring back the pho­to­graph­ic detail and get the balance you were looking for or add brush strokes for flare.
Below if Manga or comic is your style, launch the Manga Palette and unlock all of the tools that will stream­line your creation process.
Below if Concept art is your field of interest, then unlock the concept art palette. 
Concept art is used by creative pro­duc­ers, espe­cial­ly for movies and video games, to help portray an idea or, as the name implies, a concept. Unlike typical illus­tra­tion, it is used to estab­lish an idea, mood, or overall feel of the project while under con­struc­tion.
Below if Fine art is your field, Creating fine art in a digital medium has all the benefits of canvas or paper with none of the downside. Create awesome art in various digital mediums like water­colour, acrylic, oils, chalk, pastels and charcoal. 
Below if you are a illus­tra­tor launch the Illus­tra­tion Palette Layout and unlock all of the tools that will stream­line your illus­tra­tion and char­ac­ter design process.
You can ref­er­ence images and open rendered 3D objects to paint, Painter supports the process every step of the way.
Be sure to watch the many helpful tuto­ri­als and webinars to help you succeed.
Click the button to watch your free video pre­sen­ta­tion
.….….….….….….….….….….….….….….….….….….….….….……
Xara Designer Pro X
If you are a serious designer and looking for open ended control of your finished website then Xara Designer Pro X is a very powerful tool for you!
Xara Designer Pro X combines graphic and web design, illus­tra­tion, photo editing and desktop pub­lish­ing – all in a single compact work­space.
You will receive 3,000+ design elements, over 1 million archive photos & illus­tra­tions, 390 photo filters & effects, 240 website tem­plates,
over 200 print layouts for business cards, flyers, 2 GB web storage & domain free for one year, includes over 70 social media elements and 230+ Designs for pre­sen­ta­tions.
The website tem­plates, are 100% cus­tomis­able or if you prefer you can create whole new websites without tem­plates using drag & drop controls.
You can add images you've taken yourself or select from over 1 million archive photos and illus­tra­tions in the online content cat­a­logue.
Simply drag & drop to upload your images. Use the text tool to easily enter or edit text on your site — over 600 fonts from google fonts and a library
with more than 1,500 icons are avail­able for you to choose from. Xara Designer Pro X also includes a spell checker for several lan­guages.
With an advanced photo editor you are not stuck with an image that is not perfect. Adjust bright­ness, contrast, colour and sat­u­ra­tion in images 
or use 1‑click opti­mi­sa­tion. Also comes with a retouch tool to remove imper­fec­tions and dis­tract­ing elements.
Using indi­vid­u­al­ly adjustable tool tips, you can com­plete­ly retouch unflat­ter­ing areas of an image, for instance, spots or wrinkles in por­traits.
Powerful drawing tools allow you to draw lines, shapes, and curves, crop indi­vid­ual parts of your image or cut figures out.
Create intu­itive effects like trans­paren­cy, shadow, contours, gra­di­ents or design three-dimensional objects from scratch.
Support for plug-ins from external providers means your creative options are unlim­it­ed.
With Xara Designer Pro X you can easily create mul­ti­page pub­li­ca­tions such as brochures, fliers, news­pa­pers and business cards. 
Design tem­plates for let­ter­heads, posters, flyers, social media, pre­sen­ta­tions or resumes! You would find it dif­fi­cult to find a product better than than this.
Click the button to watch your free video pre­sen­ta­tion